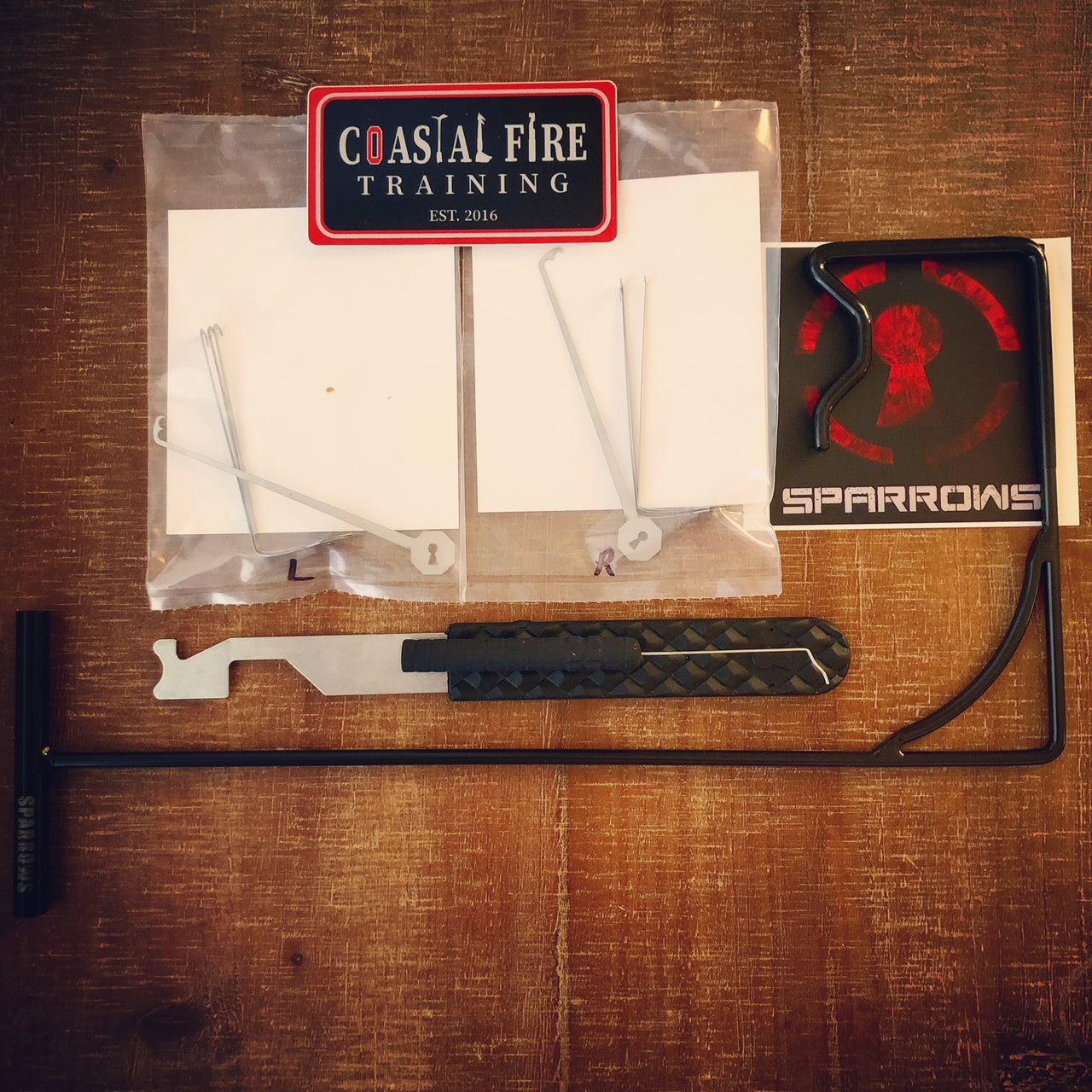 Description
Reviews
Shipping
View these tools and more in action on our YouTube Channel.
http://bit.ly/CoastalFireTraining
• The Long Shot (Left & Right combo pack!) Odd's are if you don't know what these are, you shouldn't have them. Only sold in sets (Left & Right included together as a complete set). 
• The Sparrows Adams-Rite Bypass Driver is designed to slide though the key way of the most popular glass door "store" locks allowing you access to the inner working of the lock. Once in place simply turn the driver and it will replace the action of the cylinder tailpiece by withdrawing the locks latch! The driver will rotate the latch fully open and the door is unlocked.
• Sparrows DDT (Double Door Tool) Round bar and Crash Bar compliant. This devastating tool is a must-have for any Fire/ EMS/ Law Enforcement official. Why pick a lock when you do not have to? It slips quickly and quietly in the gap between doors and allows manipulation of interior exit hardware from the outside.
• Sparrows QuickJim shove knife. This isn't your average fire service shove knife... this is a professional tool with a perfect design and made of high-quality material. This is the tool used by professional locksmiths and sold by THE leading locksmith tool manufacturer. 
Excellent products.
The tools are quality made and perfect in getting the job done! The price is excellent also.
This is a great kit!
I've seen a lot about the long shot and finally tried them, this is a great kit!
Please note that we are owned and operated by active firefighter. Products usually ship within 1-3 business days depending on shift schedule.

Some products might take longer to ship. If a product takes longer to ship we put this info in the product description.

Feel free to email us at sales@coastalfiretraining.com

** Please not that Coastal Fire Training is not responsible for shipping address errors. All orders are shipped to the exact address provided at checkout. If there is an error made and your package is returned you will be charged for reshipment.**
Your Satisfaction is Our Main Concern
Contact us with any issues and we will make it right.