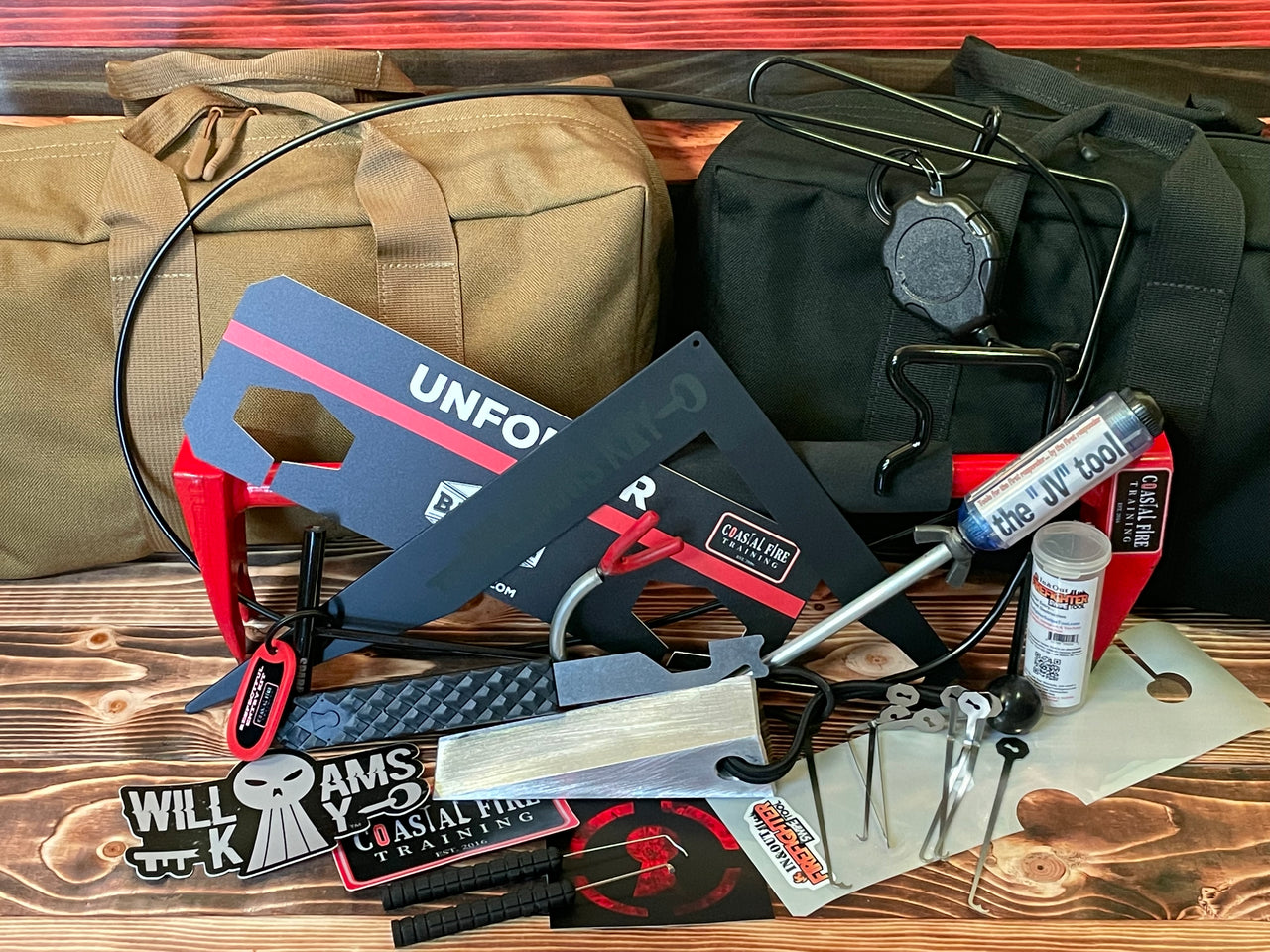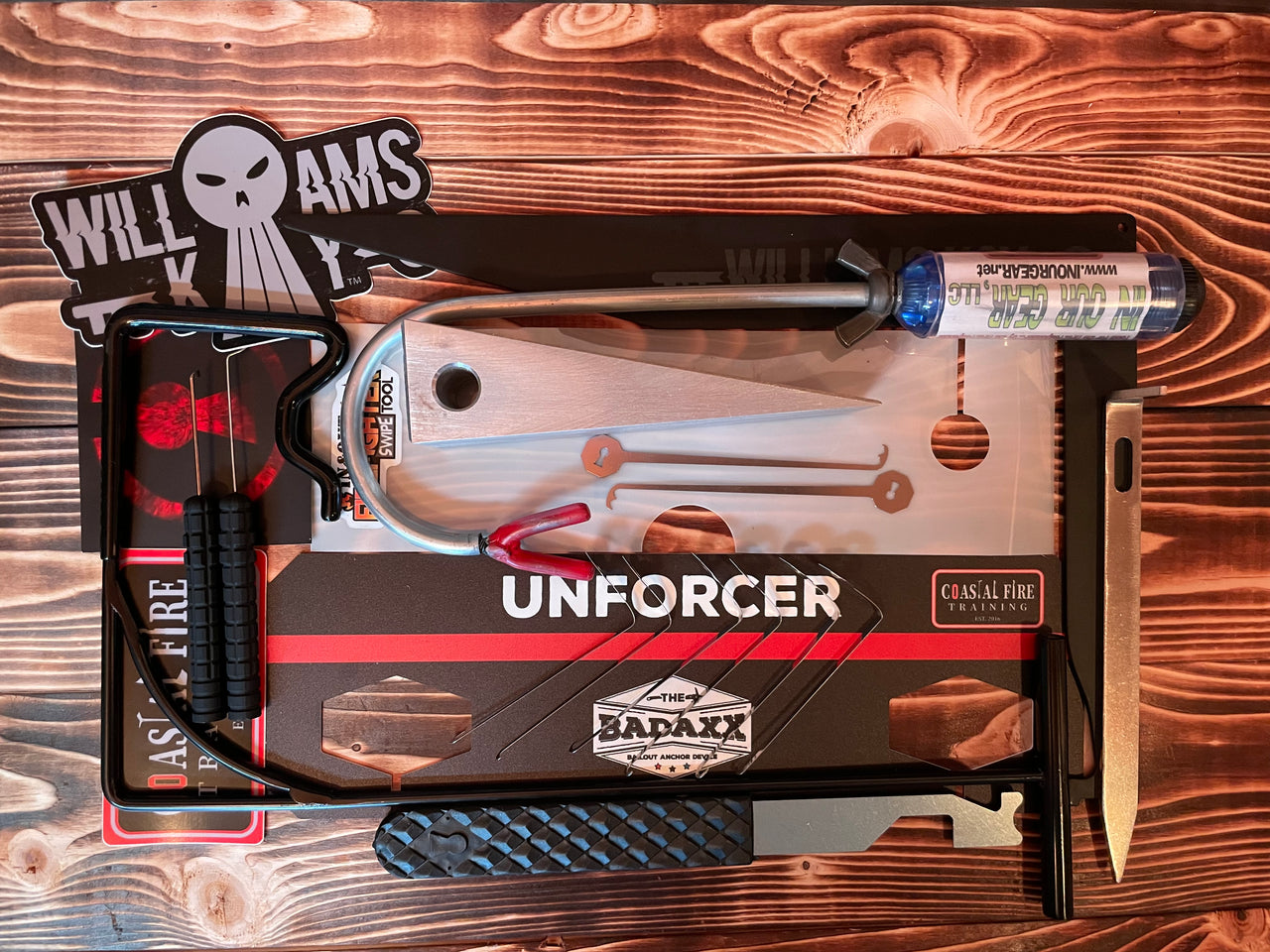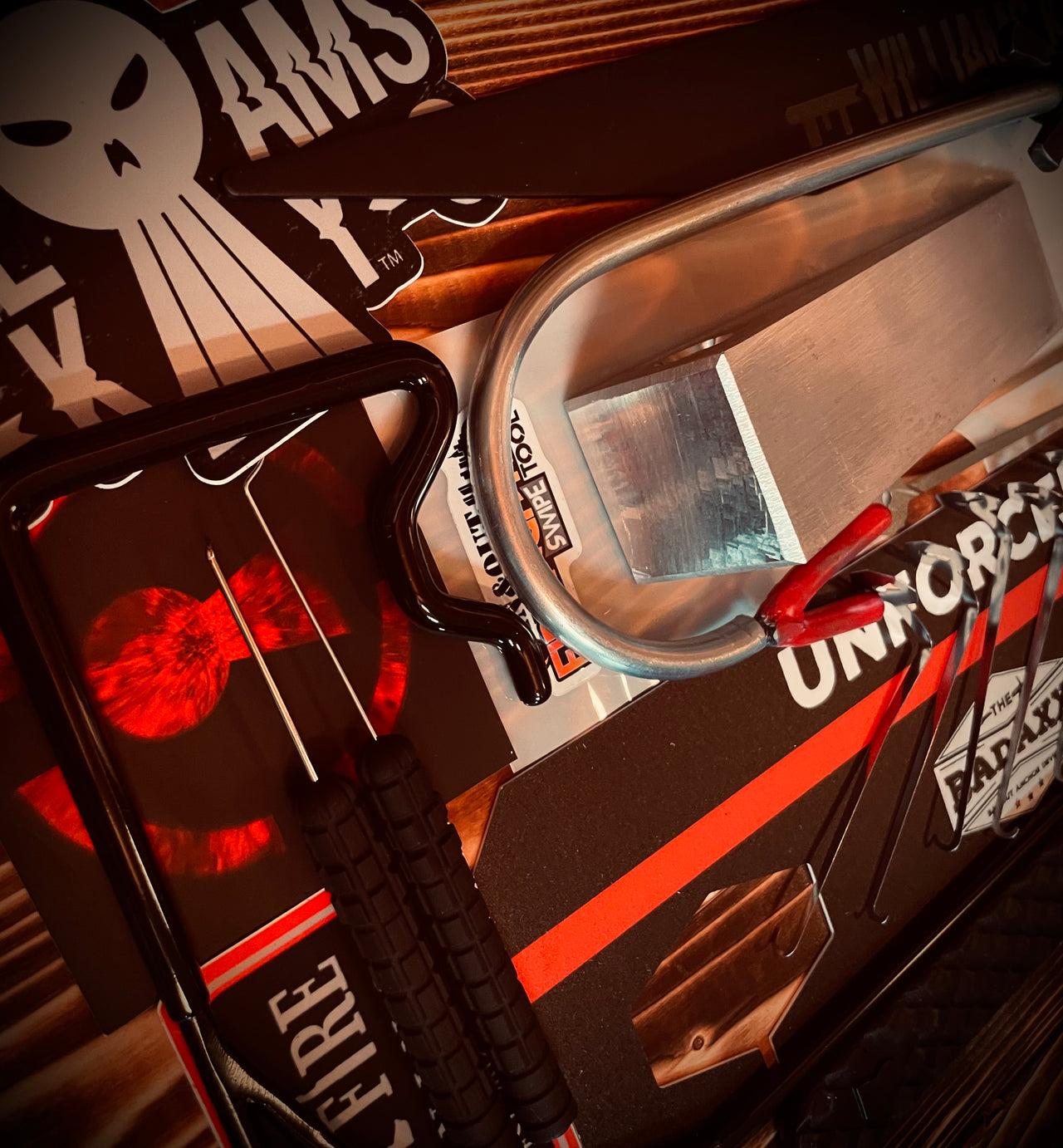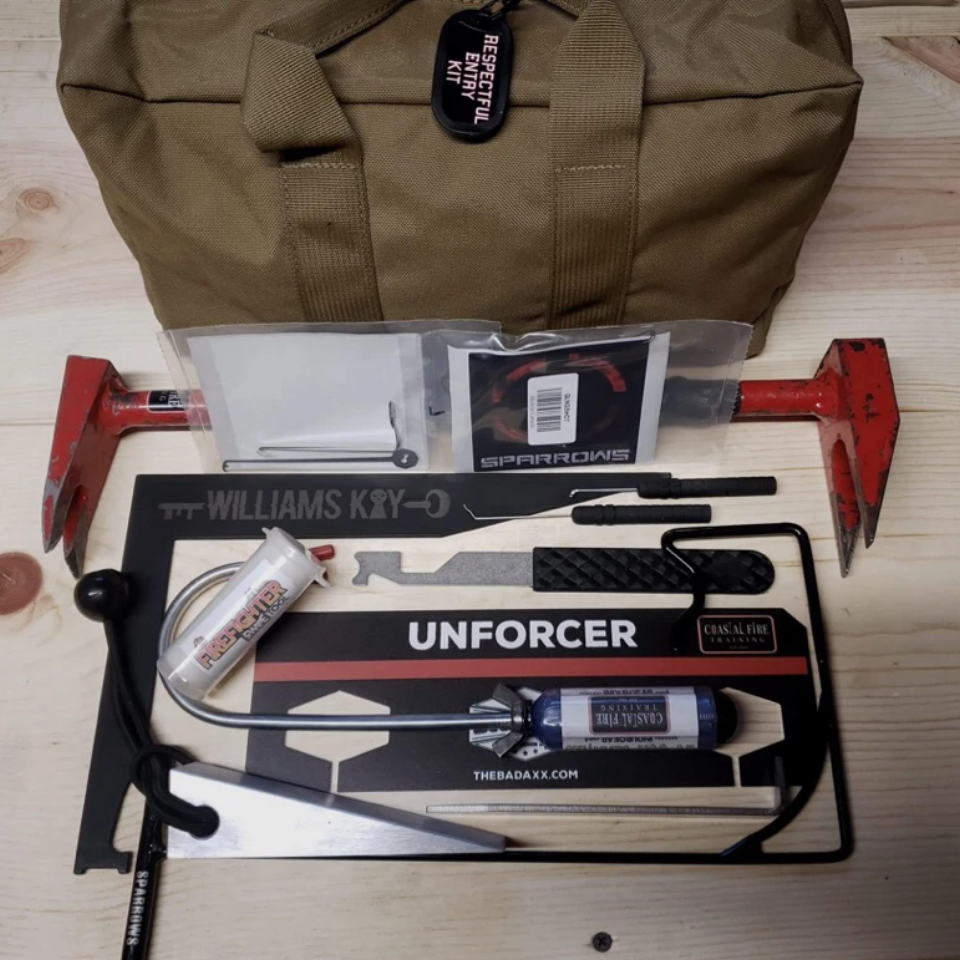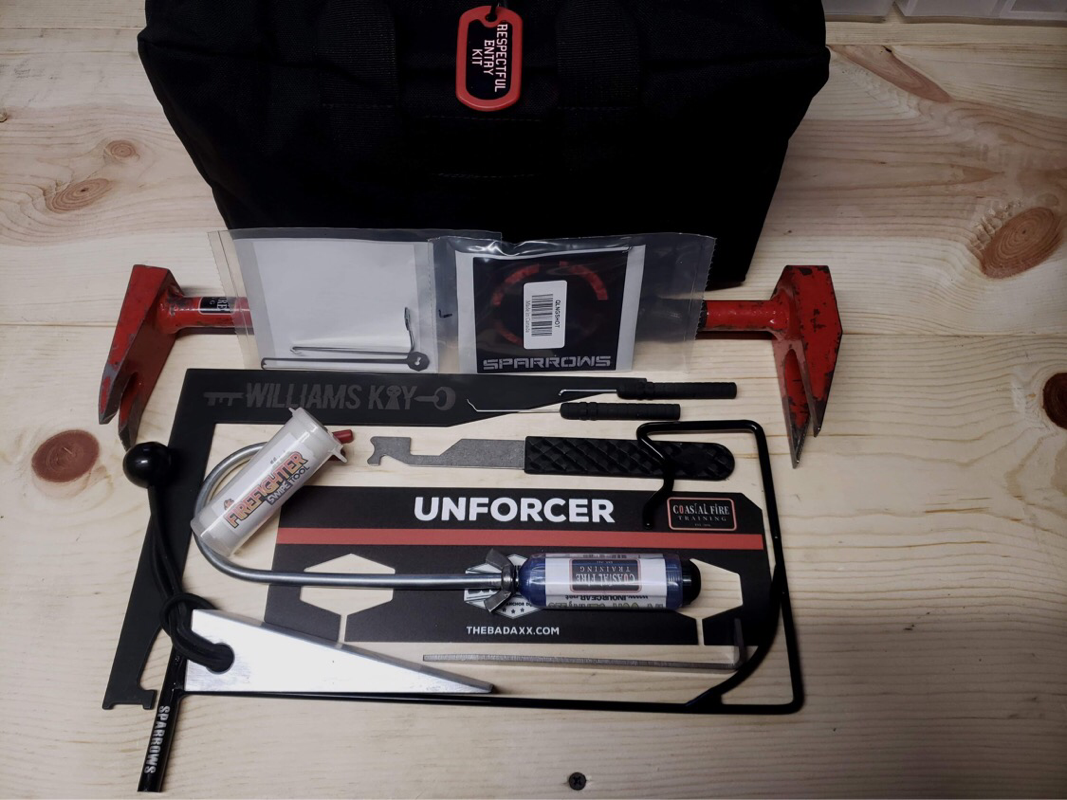 Description
Reviews
Shipping
**Coastal Fire Tool Bag Currently On Backorder

 

- Next batch of tool bags are being made. All orders will be processed in the order they are received.

**
With thousands of the OG Respectful Entry Kits sold in the last year, we regularly receive requests for a more advanced Respectful Entry Kit. 
This complete ELITE Respectful Entry Kit will include:
The Williams Key (beveled loiding tool)
The JV Tool
The Firefighter Swipe Tool
The BADAXX Unforcer with Coastal logo
Coastal aluminum force wedge w/ bungee ball
Coastal Key Tool 
Coastal Keychain shove knife with key ring 
Sparrows Adams-Rite Bypass Driver
Sparrows Double Door Tool
Sparrows Longshots (Left & Right combo pack!)
Sparrows QuickJim Shove Knife
Sparrows Padlock Bypass Driver 
Sparrows Under-The-Door Tool with upgrade!
‼️**Optional 1000D Cordura® Large Gear Carry Bag (BLACK or COYOTE) and OPTIONAL Fire Hooks Unlimited S&D Rex or ZB Tool‼️
This bag fits this entire set comfortably and has plenty of space left over for additional hand tools and tools of your choice. It is a very rugged and resilient tool bag, and the last you'll ever need for your Respectful Entry/ TTL Tools. You can roll the UTDT tightly enough to fit in the bag as well. 
View these tools and more in action on our YouTube Channel.
http://bit.ly/CoastalFireTraining
• 1000D Cordura® Carry bag
14"x 6" x 8"
Compact enough to be stored in larger tool bags and boxes
Double layer 1000D Cordura® construction to last a lifetime
Full body handles help distribute weight through the bag
Dual #8 Heavy Duty American Made YKK® zippers
Pull tabs to assist with closing of pouch
High quality sewing and materials
Hand crafted in the USA
• The J-Tool (double door tool) Firefighter made right here in Virginia. These are high quality, high strength, and precision engineered. Used for opening double doors with panic hardware.
• The In Our Gear JV Tool is Firefighter owned, Firefighter made, right here in America. It's the most cost effective thumb-turning device on the market. You can't beat it. Comes with a lifetime warranty against manufacturing defects. 
• The Williams Key was developed by a firefighter / door carpenter in urban Los Angeles to gain quick access and make entry to commercial and residential doors and gates on the scene of an emergency response call. It causes little to no damage and weighs almost nothing. The Williams Key can be used on both inward and outward swinging doors, interior and exterior, as well as security gates and a handful of other related applications. It serves as a useful and affordable addition to any forcible entry or soft entry kit; or as a stand alone access tool on any piece of fire or police apparatus.
• The In&Out Firefighter Swipe Tool is made by an FDNY Firefighter and works on inward and outward swinging doors for slick, passive access. The thin container and new notch make this a must-have. 
• The BADAXX Unforcer is a loiding device with great features, made of rugged material and features knob & lever keepers to hold the door open once access is gained. You're getting in with this and looking great doing it. 
• Sparrows QuickJim shove knife. This isn't your average fire service shove knife... this is a professional tool with a perfect design and made of high-quality material. This is the tool used by professional locksmiths and sold by THE leading locksmith tool manufacturer. 
• The Aluminum Force Wedge with bungee is high quality, high strength, and softly and respectfully gaps everything you need - handheld or with a light tap of a mallet. Things get disrespectful (conventional FE)? Drive it home; it will take all of the abuse you need it to. Made of 6061 aluminum.
• Longshots Odd's are if you don't know what these are, you shouldn't have them.
Left & Right included together as a complete set.
• Adam's-Rite Bypass Driver Professional grade locksmith tool. The Sparrows Adams-Rite Bypass Driver is designed to slide though the key way of the most popular glass door "store" locks allowing you access to the inner working of the lock. Once in place simply turn the driver and it will replace the action of the cylinder tailpiece by withdrawing the locks latch! The driver will rotate the latch fully open and the door is unlocked. If the door happens to be in a partial bind the driver will release the "deadlocking feature" allowing you to use a Firefighter Swipe Tool or BADAXX Unforcer to slide behind the latch to push it back and open the door.
• The Padlock Bypass Driver The padlock driver is designed to bypass the very popular older 700 and 1100 series American Padlocks. The American 700 and 1100 models are often copied and duplicated by others. This further increases the impact of the Bypass Driver as it will also open these cloned designs. On older model 700 and 1100 American locks, locks with riveted keeps, duplicates and most models that have been serviced or rekeyed the the Bypass Driver is highly effective. The Driver slides through the keyway and with a turn the shackle opens, it's just like using a key. 
• Under-The-Door-Tool Flat black finish with upgraded retractable cable! This solves the common problem of the OEM cable fraying, tearing, or shredding. Ships with the OEM cable. This makes the tool smaller, more versatile, and more user-friendly. Physical penetration testers and locksmiths use this combination to upgrade their UTDT and make it easier to coil or store in your gear bag/ REK. Very effective tool - a high percentage of institutions are required by law to use lever handle due to mobility issues.
• The Coastal Key Tool is used for gaining entry. After pulling the cylinder the key tool can be inserted to move the lock bolt to the open position.
Made out of 1/8" stainless steel.
• Keychain Shoveknife These shove knife blades (after removing the key ring) are also designed to fit into any standard utility knife. Simply remove your utility knife blade and replace it with the Coastal Shove Knife Blade. Spray paint your utility knife to make it easily recognizable as a shove knife.
Firefighter owned, firefighter supplied, using American & Veteran made/sourced material. Thank you for supporting firefighter small business and thank you for your interest in #REK. Respectful Entry Kits greatly improve citizen satisfaction with you, your fire department, and save time and money for your FD and your citizens. Saving lives, time, and money. A small investment in our craft. 
*Contact us for international shipping quotes.
Outstanding!
Great Quality and excellent costumer service!
Great kit
Amazing company and a great kit they put together. Love training on all items in service can't wait to keep adding to it.
Please note that we are owned and operated by active firefighter. Products usually ship within 1-3 business days depending on shift schedule.

Some products might take longer to ship. If a product takes longer to ship we put this info in the product description.

Feel free to email us at sales@coastalfiretraining.com

** Please not that Coastal Fire Training is not responsible for shipping address errors. All orders are shipped to the exact address provided at checkout. If there is an error made and your package is returned you will be charged for reshipment.**
Your Satisfaction is Our Main Concern
Contact us with any issues and we will make it right.