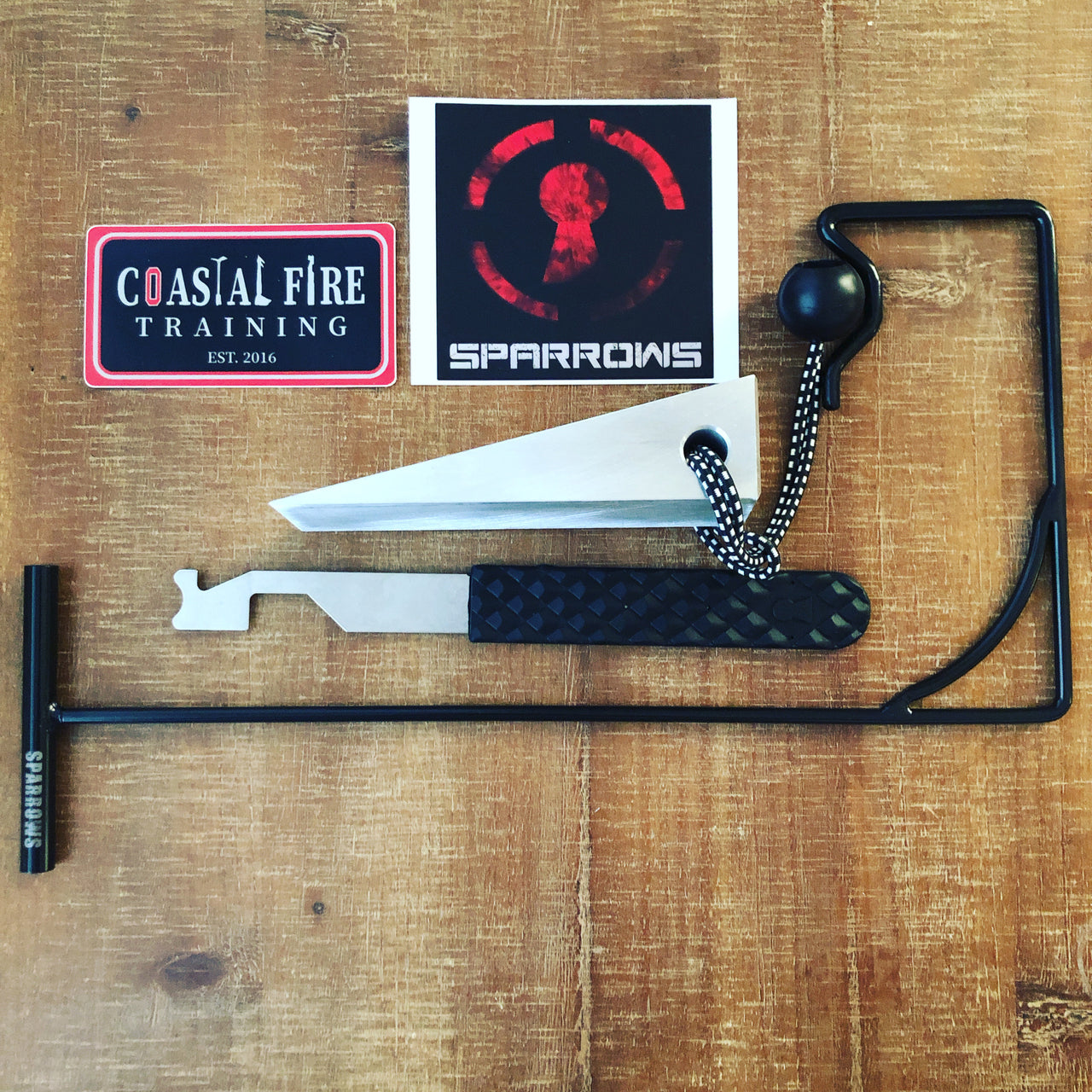 Description
Reviews
Shipping
View these tools and more in action on our YouTube Channel.
http://bit.ly/CoastalFireTraining
• Sparrows DDT (Double Door Tool) Round bar and Crash Bar compliant. This devastating tool is a must-have for any Fire/ EMS/ Law Enforcement official. Why pick a lock when you do not have to? It slips quickly and quietly in the gap between doors and allows manipulation of interior exit hardware from the outside. 
• Sparrows QuickJim shove knife. This isn't your average fire service shove knife... this is a professional tool with a perfect design and made of high-quality material. This is the tool used by professional locksmiths and sold by THE leading locksmith tool manufacturer. 
• The Aluminum Force Wedge with bungee is high quality, high strength, and softly and respectfully gaps everything you need - handheld or with a light tap of a mallet. Things get disrespectful (conventional FE)? Drive it home; it will take all of the abuse you need it to. Made of 6061 aluminum.
Good kit!
Good kit! Love the shove knife it is a bit sturdier and more flexible than FHU knife and a bit longer. J tool is awesome. And that wedge.. the wedge is nice, heavy and high quality. My ONLY complaint about the wedge is there is no cut out to put it onto a halligan like but the bungee it comes with is nice and i keep it in my pocket anyway. Great kit well worth the money
Awesome kit!
Why spend the time hunting down these necessities when CFT already has them ready to go with one click? Was putting together another Respectful Entry kit for a buddy and CFT's Bundle #1 just makes it too easy.
Please note that we are owned and operated by active firefighter. Products usually ship within 1-3 business days depending on shift schedule.

Some products might take longer to ship. If a product takes longer to ship we put this info in the product description.

Feel free to email us at sales@coastalfiretraining.com

** Please not that Coastal Fire Training is not responsible for shipping address errors. All orders are shipped to the exact address provided at checkout. If there is an error made and your package is returned you will be charged for reshipment.**
Your Satisfaction is Our Main Concern
Contact us with any issues and we will make it right.